(CNN) -- President-elect Barack Obama on Wednesday will announce his pick for "chief performance officer," a newly created position that will work on the federal budget and to reform government, a Democratic official told CNN.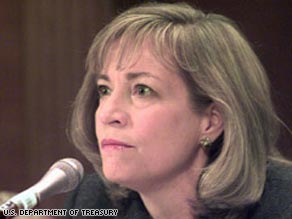 Barack Obama has selected Nancy Killefer to be his CPO, according to two Democratic officials.
Obama has selected Nancy Killefer, according to two Democratic officials. She is a senior director for McKinsey & Company, a management consulting firm. She was an assistant secretary of the treasury in the Clinton administration.
The CPO will "help put us on a path to fiscal discipline," a Democratic official said.
The announcement comes a day after Obama told reporters that the deficit will probably hit $1 trillion this year and that "potentially we've got trillion-dollar deficits for years to come."
The president-elect said he would need to "invest an extraordinary amount of money" to get the economy back on track. He intends to push through what is expected to be an $800 billion economic recovery plan as one of his first acts in office.
Obama has also promised that his administration will embrace budget reform. He vowed on Tuesday to "bring a long-overdue sense of responsibility and accountability to Washington."
Following Obama's announcement Wednesday, the president-elect will head to the White House to meet with President Bush and the three surviving past presidents.

Watch more on the meeting of the presidents »
Bush will host Obama at the White House for the second time since the election, and then the two will be joined by Jimmy Carter, George H. W. Bush and Bill Clinton. All five will then have lunch together.
After meeting with President Bush last month, Obama came up with the idea that the former presidents should get together.
White House spokeswoman Dana Perino said the current and former leaders will gather for a photo op in the Oval Office, but that their conversation and meal will be private. She said she doesn't know what they will talk about, but she said she'd love to be able to hear it.
"I'm sure all of us would love to be flies on the wall and listening to that conversation," Perino said during Tuesday's daily press briefing.
Perino speculated that they will discuss what it's like to raise children in the White House and how to protect them. She praised the Obamas for doing a good job with that so far and said they got their daughters to their first day of school on Monday "in good fashion."
Perino said the last time all of the living presidents got together was in 1981, and she called Wednesday's meeting a "historic moment."
Meanwhile, sources inside Obama's transition team and at CNN said Tuesday that the transition team has approached Dr. Sanjay Gupta, CNN's chief medical correspondent, about becoming U.S. surgeon general.
Gupta is a member of the staff and faculty of the Department of Neurosurgery at Emory University School of Medicine in Atlanta, Georgia. He regularly performs surgery at Emory University Hospital and at Grady Memorial Hospital, where he serves as associate chief of neurosurgery.
Gupta was in Chicago, Illinois, in November to meet with Obama on the matter, sources said.
Gupta has declined comment.
Two Democratic sources also have told CNN that Obama will nominate longtime Washington power broker Leon Panetta to lead the Central Intelligence Agency.
This pick has provoked strong emotions in political and intelligence circles because Panetta has little hands-on experience in intelligence. But Panetta supporters describe him as a consummate manager and bipartisan Capitol Hill insider who gets things done without alienating people.
Panetta, 70, has had a long political career, beginning in 1966 when he served as a legislative assistant to U.S. Sen. Thomas H. Kuchel, R-California. He also was the chief of staff in the Clinton White House.
View source article