(CNN) -- Sen. Barack Obama cautioned supporters Thursday against becoming complacent during the final days leading up to the election, noting he lost the New Hampshire primary despite a lead in the polls.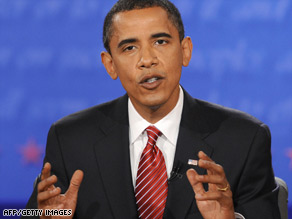 After debating Sen. John McCain, Sen. Barack Obama says there's still plenty of campaigning to be done.
"For those of you who are feeling giddy or cocky and think this is all set, I just [have] two words for you: New Hampshire," the Democratic presidential nominee said during a fundraiser breakfast in New York. "You know I've been in these positions before where we were favored and the press starts getting carried away and we end up getting spanked. And so that's another good lesson that Hillary Clinton taught me."
About 10 hours after debating Sen. John McCain, Obama urged top campaign contributors at the Metropolitan Club in Manhattan to not be overconfident, despite leading in a number of national polls.
A CNN Poll of Polls calculated Wednesday showed him leading 51 percent to 42 percent.
"We've got 19 days," Obama said. "We're going to have to work absolutely as hard as we've ever worked in our lives in order to just to get to the start of what is going to be a very difficult and very challenging but ultimately a very fulfilling four years where we can get this country back on track."
Hours later, Obama spoke to a crowd in Londonberry, New Hampshire, lashing out at McCain's debate tactics.
"Well, New Hampshire, last night we had a debate. I think you saw a bit of the McCain attack strategy in action," he said. "But here's what Sen. McCain doesn't seem to understand: With the economy in turmoil and the American dream at risk, the American people don't want to hear politicians attack each other -- you want to hear about how we're going to attack the challenges facing middle-class families each and every day."